Please visit us at stand 3K31, CPhI worldwide, 7-9 October 2014, Paris Nord Villepinte, France.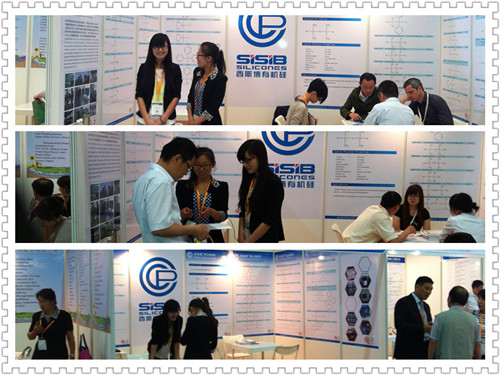 CPhI China: We exhibited at W4Q08 in hall W4.
26 - 28 June 2014, SNIEC, Shanghai, China
European Coatings Show 2013
19th March to 21st March 2013 - Nuremberg, Germany
We exhibited at Hall 1, Stand 637.6.
SiSiB® SILICONE RUBBER 2014 published.
SiSiB® SILANES & SILICONES 2014 [Regular & Industrial] published.
December 16, 2013.

Novel oximino silane, MIBKO based silane crosslinkers have been put into production successfully.

SiSiB PC7133: Methyltris(MIBKO)silane.
SiSiB PC7530: Vinyltris(MIBKO)silane.
SiSiB PC7410: Tetra(MIBKO)silane.
European Coatings Show 2013
--------------------------------------------------------------------------------
19th March to 21st March 2013 - Nuremberg, Germany

The European Coatings Show not only reflects the international paint and coatings industry, but is also a regular gathering of experts from all over the world in one place. The extensive spectrum of products and services at the exhibition is enhanced by the European Coatings Congress, where top international coatings development experts meet to exchange information at the highest level.

Come and meet us at Hall 1, Stand 637.6.
China central bank's announcement Saturday (June 19, 2010) that China would increase exchange rate flexibility implies that China will allow RMB appreciation.

The appreciation of RMB will pile pressure on exporters already contending with a roughly 15 percent appreciation of the RMB against the euro, as well as rising labor costs.
SiSiB® SILANES 2009 [Chineses Version] newly published. August 2009
Power Chemical Group acquired www.silane.asia and www.silanes.asia domain successfully.------March 2008.
SiSiB® PC3200 [3-glycidoxypropyltriethoxysilane] went into volume production since January 2008.
China to adjust export rebate policy on 2,831 commodities

Wednesday,June 20,2007 Posted: 10:16 BJT(0216 GMT) People's Daily

China's Ministry of Finance said Tuesday that, starting July 1, the country would cut or eliminate export tax rebates for 2,831 commodities representing 37 percent of the total number of items listed on customs tax regulations.

A ministry spokesman said the move was one of a basket of measures to suppress overheated export growth and ease frictions between China and its trade partners.

The country will abolish export tax rebates on 553 "highly polluting products that consume heavy amounts of energy and resources" such as salt, cement, and liquefied petroleum gas, said the spokesman.

Tax rebate on exports of 2,268 commodities which "tend to cause trade frictions" will be reduced, he said.

The country will scrap the export tax for ten commodities including shelled peanuts, canvas, wood for carving and stamps, according to the spokesman.

The new tax rebate system will have five levels, namely 17 percent, 13 percent, 11 percent, 9 percent and 5 percent.

The spokesman said the cost of producing the 2,831 commodities would increase as a result of the changes to the export tax rebate regime. This would incite capital investment to move to other "high value-added and high tech" industries.

In the long run, this would help the country develop in an economic and sustainable way, he said.

Customs statistics show that from January to May, the country reported a trade surplus of 86 billion U.S. dollars, up 83 percent on the corresponding period of last year.

Soaring exports have increased liquidity in the domestic market and added to pressures on the RMB, said experts.

http://english.mofcom.gov.cn/aarticle/counselorsreport/asiareport/200706/20070604802827.html